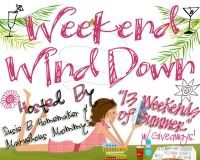 If you've never linked up for the Weekend Wind Down before, here's how you can join in the fun:
• Become a follower of both hosts- Susie B. Homemaker & Marvelous Mommy
• Write your blog post on the theme or copy and paste the question listed. Make sure the "Weekend Wind Down" Button is visible somewhere in the post
• Link up your "Weekend Wind Down" post using the McLinky on Sat. or Sun. You will only need to link up once to be seen on all the Blog Hops. (Please link to your actual "Weekend Wind Down" post, NOT your main blog page)
So when you link up, not only do you get to blog hop around and meet, comment, & follow other blogs (and get new followers for yourself)... but you also get an entry into the giveaway contest at the end of the summer... win/win for everyone!! Read full giveaway rules here.
And what are these giveaways you're asking?? Well, we have 2 gift certificates- 1 lucky winner will get one from CSN Stores & another lucky winner will win one from Whimsical Creations!
**Week #3 Question: During a HEAT wave (like this past week), how are you keeping COOL??
**My Answer: We are keeping cool by staying inside during the heat of the day and out in the early morning hours or late evening.