I haven't posted in awhile as I have been busy sewing and using my creativity.
Remember that dress I posted a pic of my 3 yr old in here? Well this is what I did to it.
And then I made this hair clip to go with it.
I also made her this other dress that I am not done dressing up yet but will post more pics after I dress it up.
Then I took a button up shirt and made this dress for my 20 month old.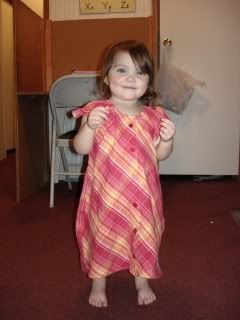 Now let me share with you some awesome tutorials that I used to make this stuff with. I made the flowers with this tut. I used this tut to make a dress from a button up shirt.
I love finding tutorials that help make things easy and finding new things I want to make. So, if you have any great tutorials that are craft related please share.
Not only that but after all that hard work I made some Oats N Wheat Blueberry Muffins!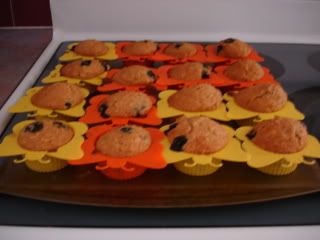 You can find that recipe here. I will say they weren't overly sweet like most muffins and when I make them again I am going to add 2/3 cup of honey. I think they could use a tad bit more sweetness but either way they where delicious!
Also, besides those I posted I do test sew patterns from time to time for people and can't post pics of those as I have to wait for the pattern to come out.
If you are creative in anyway please feel free to share some links. I love looking at what other people have done!