As a mom I am so busy. I try to make time to get stuff done. So, in the spirit of potty training I decided to pull out my Tinkle Time Trainer pattern and whip one up.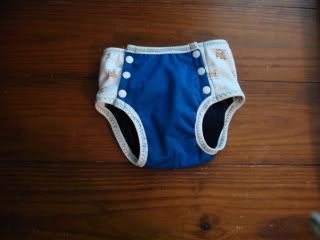 I only made one as I haven't made this pattern yet and wanted to see how it fit my little one. This is a medium trainer with FOE (fold over elastic) and 2 rows of snaps so it can expand.
It fit fine for her a little big in the waist but it will work. I think next time I make one with FOE I will not add the extra inch of elastic in the waist band like it says to. My little one is skinny and petite. Here are more pictures. The outer.
I will be making some more this week. As I am sick of taking diapers on and off to go potty. This trainer is great as it unsnaps or pulls up and down. So, if you have a oppps it makes clean up easy.
Then I decided to make something for the new baby. So, I made the Comfy Sleep Set by Fishsticks Designs that is in the new Stitch Magazine. This is a 0-3 month Comfy Sleep Set.
Love this pattern! So easy to put together! Can't wait to put the new edition in it.
Now off to be more creative and get some more sewing done!